KAKA Industrial CS-14 Heavy Duty Manual Cold Saw, 14" Blade Diameter, Double Speed Circular Saw, Heavy Duty Swivel Head Floor Type Cutting Chop Saw, 3-Phase 230V, 3/1.5hp Motor
KAKA Industrial CS-14 Heavy Duty Manual Cold Saw, 14" Blade Diameter, Double Speed Circular Saw, Heavy Duty Swivel Head Floor Type Cutting Chop Saw, 3-Phase 230V, 3/1.5hp Motor is backordered and will ship as soon as it is back in stock.
Couldn't load pickup availability
The item weights less than 100 lbs will be delivery by FedEx Ground or USPS. You will receive tracking number once the carrier pickup. 
The item weight over 100lbs normally will be delivery by LTL Freight. Please note you may need the optional services if you order these items. For exemple, if you don't have a forklift or similar equipment to offloading the package, you may need to book the lift gate delivery service when checkout.
Payment & Security
Payment methods
Your payment information is processed securely. We do not store credit card details nor have access to your credit card information.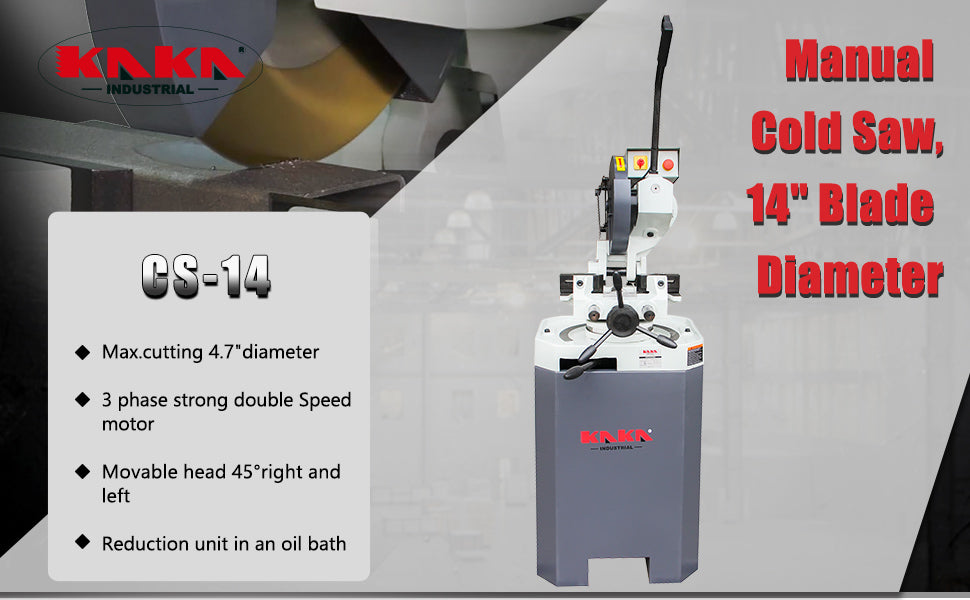 Function Indication     
1、Max. cutting 4.7" diameter
2、3 phase strong double Speed motor
3、Movable head 45° right and left
4、Reduction unit in an oil bath
5、Built-in cooling system
6、HSS saw blade featured highly efficient and durable
7、Safety saw blade protection
  Item No.
  188020
  Model
  CS-14
  Capacity
  Circular @90°
  4.7"
  Rectangular @90°
  5.5"x4"
  Circular @45°
  4.1"
  Rectangular @45°
  4"x4"
  Blade speed @60Hz
  20,41rpm
  Blade Size
  13.8"
  Motor power
  0.75kW
  Drive
  Gear
  Packing Size
  39"X25"X39"
  N.W/G.W
  520/594lbs
1.KAKA Industrial provides 12 months warranty for this product from the date of purchase.
2. Please note that this warranty does not apply to defects due directly or indirectly to misuse, abuse, alterations, lack of maintenance or consumable parts.
3. The original end-user must give written notice to Seller of any suspected defect in the Goods prior to the expiration of the warranty period.
KAKA Saw
I had a cold saw previously from a competitor of yours that was lost in a fire.
It would still only be less than a year old. The KAKA is far and away easier to use for $1500 less. So far I love this saw.
Perfect saw at 1/2 the price of Bail#$y, super solid, nicely built, great vise
I anted a coldsaw for under $2k, everything I was seeing was only 10-11 inch. At a 45 degree miter (the main reason I use the coldsaw) they wouldn't cut much more than 2", this one for $1699 is a 14" and cuts 4" at 45 degrees, AWESOME!! (I cut mainly 2x4 steel box and 4x4 and 2x2)
its main motor is 220v 3 phase, the coolant is single phase 220v.
I run my shop on single phase 220v from solar, so I ripped out the relays, transformer etc and put a small profile 220 v inverter drive for under $200 from amazon in the same control box, I used the same trigger switch to start and stop the inverter. Now I can run on singe phase, and it smoothly accelerates and decelerates, (1 or 2 seconds is enough) , Now has fully variable speed, saves power and reduces heat and ware on the motor / gearbox. and the inverter has a relay output I used to turn the coolant pump on and off automatically. I LOVE THIS SAW
the motor and gearbox are the same ones that other manufactures sell, super solid! and all the guard hardware is nicely done, thick heavy duty metal.
It also has a really nice vise, the teeth never hit the vise no matter what angle you cut at and both sides of the vise move to keep the metal centered and it has jaws on both left and right, so you get double holding, less blade breakage due to material moving and you can gut from either direction.
It could do with a bigger fluid tank, but they all could.