KAKA 8"MINI 8-Inch Manual Mini Shear and Brake Combination, High Quality Miniature Compact Manual Sheet Metal Brake and Shear Combination
KAKA 8"MINI 8-Inch Manual Mini Shear and Brake Combination, High Quality Miniature Compact Manual Sheet Metal Brake and Shear Combination is backordered and will ship as soon as it is back in stock.
Couldn't load pickup availability
The item weights less than 100 lbs will be delivery by FedEx Ground or USPS. You will receive tracking number once the carrier pickup. 
The item weight over 100lbs normally will be delivery by LTL Freight. Please note you may need the optional services if you order these items. For exemple, if you don't have a forklift or similar equipment to offloading the package, you may need to book the lift gate delivery service when checkout.
Payment & Security
Payment methods
Your payment information is processed securely. We do not store credit card details nor have access to your credit card information.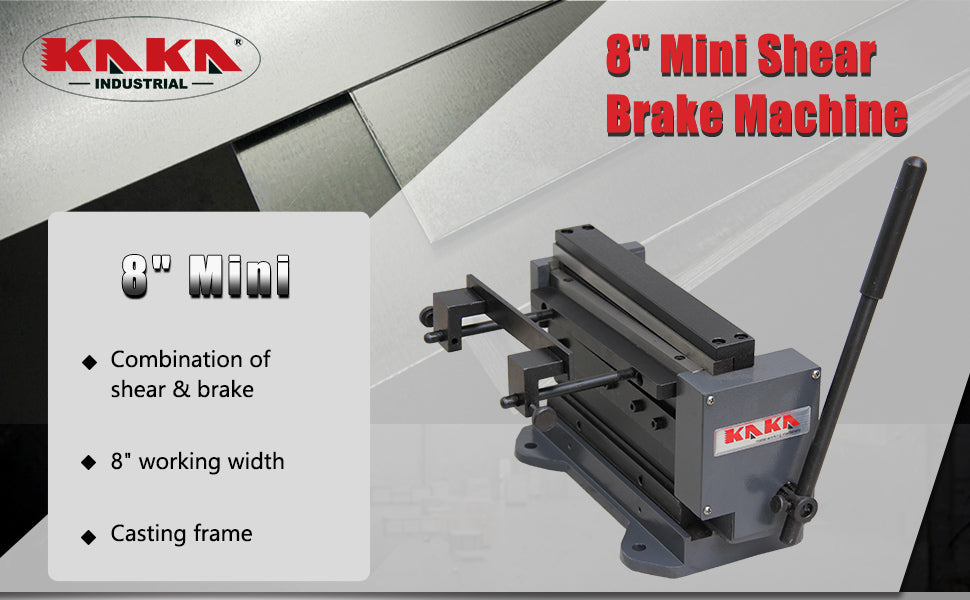 Function Indication     
KAKA Industrial 8" Mini Shear Brake Description
KAKA Industrial 8 inches mini shear brake is a smart metalworking tool.This mini shear can fulfill multiple tasks, which include shearing, angle bending, pan forming & radius bending with continuous steps. It is also perfect for those small arts and crafts projects where a larger machine is just too big to be operated efficiently.

It has an 18 gauge aluminum maximum capacity and a 20 gauge copper/brass maximum capacity.It equips with an 8-inches bed width with 7-7/8-inches blades for the shear and brake.It also has a 90 degrees maximum bend angle for making perfect corners. 
8" Mini Shear Features
1、18 Ga aluminium capacity
2、Maximum capacity of 20 gauge copper and brass.
3、 90°max. bending angle
4、Segment fingers for press bending
5、Back gauge for repeat working
6、Maximum 1" lip for Pan forming
7、Four cutting edges, upper cutter save your money to purchase the replacement ones
8、Bend and shear with one compact tool, it is perfect for countless applications.
9、Double-featured miniature machine will save your hours of tedious sheet metal fabrication and finishing
Small Tips
1-Bending Prism with 2 Radius V-grooves. Simply rotate the BENDING PRISM 180° vertically to use the optional radius.
2-For the purpose of protecting the machine from rust during transit, it is covered by protective coating before packed. As a reminder, denatured alcohol does a nice job of cleaning it off.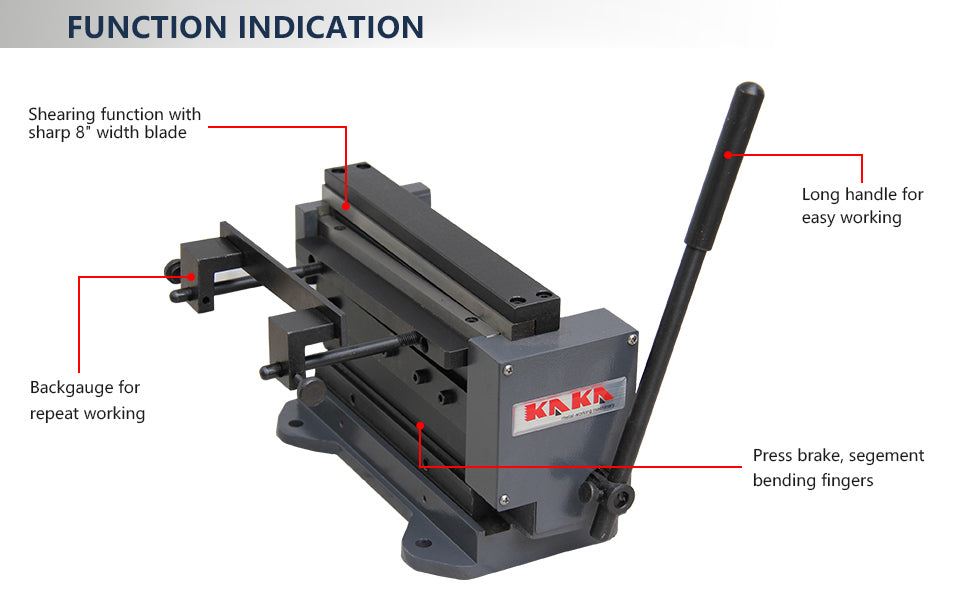 | | |
| --- | --- |
|   Item No. |   171010 |
|   Model |   8" Mini |
|   Bed width |   8"  |
|   Cutting capacity |   20Ga |
|   Bending capacity |   20Ga |
|   Max. bending angle |   90° |
|   Packing Size |   21"X13"X8" |
|   N.W/G.W |   26/30lbs |
1.KAKA Industrial provides 12 months warranty for this product from the date of purchase.
2. Please note that this warranty does not apply to defects due directly or indirectly to misuse, abuse, alterations, lack of maintenance or consumable parts.
3. The original end-user must give written notice to Seller of any suspected defect in the Goods prior to the expiration of the warranty period.
Handy bit of kit!
I bought this machine for the occasional shear or brake project around my hobby workshop. It's worked very well for me on a number of projects. Just what my needs require! It was my first KAKA purchase, and I will be back for more! I highly recommend for anyone who needs a machine to handle small, light jobs occasionally!
Bends and Cuts Well
I am really happy with how well this brake/shear cuts .016" and .032, thick brass and aluminum stock. I can cut very narrow strips with literally no curl at all. The stop on the shear is only useful if you are cutting pieces 7/16" or wider so when I cut strips narrower than that I just am careful how I position the work. I have also used the brake to create 90 degree bends in brass and aluminum. I haven't tried to use it with steel. Overall it's a great little tool for a good price.
Brake bend tool
Patience and it will work for you. I make parts for toy trucks. Does not work good with metal of 20ga. 26gauge sheet metal or smaller works best. Guides and stops are not of much use. Good lighting needed. Good luck.
Great tool to own
This is a great tool for anyone working with small sheet metal or making jewelry.
Nice little shear
Surprised at quality of the cut for price of machine. Slightly clumsy for me to use as I cut very small pieces for hand crafted silver jewelry. Needs a larger table for my needs but the price makes this a good value and useable tool for me