KAKA Industrial HS-12 12-Inch Sheet Metal Plate Shear, Solid Steel Frame, Mounting Type Metal Shear, For Cutting Sheets and Bars, High Precision Manual Hand Plate Shear
$191.99 $209.99
Unavailable
KAKA Industrial HS-12 12-Inch Sheet Metal Plate Shear, Solid Steel Frame, Mounting Type Metal Shear, For Cutting Sheets and Bars, High Precision Manual Hand Plate Shear is backordered and will ship as soon as it is back in stock.
Couldn't load pickup availability
The item weights less than 100 lbs will be delivery by FedEx Ground or USPS. You will receive tracking number once the carrier pickup. 
The item weight over 100lbs normally will be delivery by LTL Freight. Please note you may need the optional services if you order these items. For exemple, if you don't have a forklift or similar equipment to offloading the package, you may need to book the lift gate delivery service when checkout.
Payment & Security
Payment methods
Your payment information is processed securely. We do not store credit card details nor have access to your credit card information.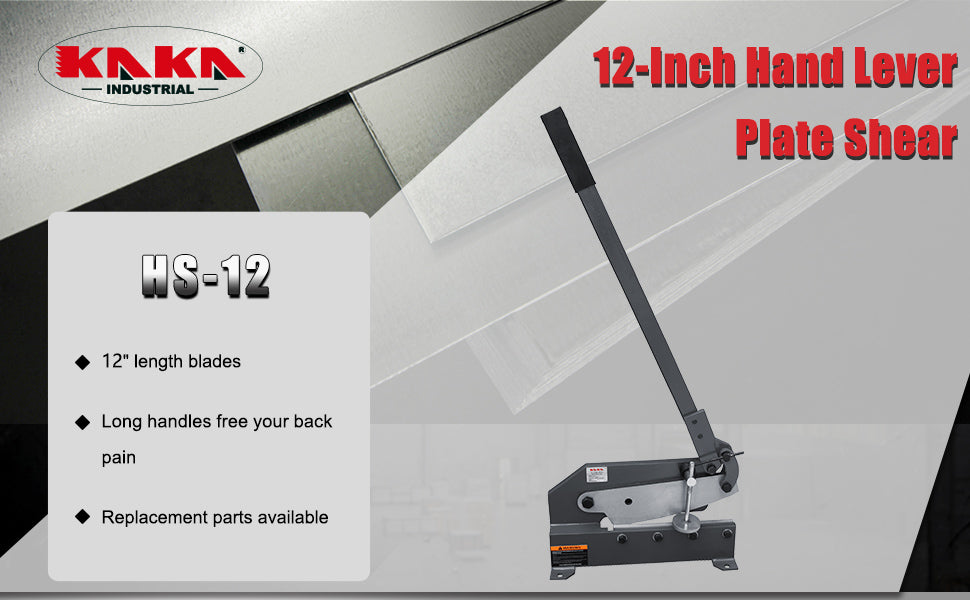 Function Indication     
About KAKA Industrial: A Company Delivers High Quality Products with Fast Shipment and Lowest Price Possible. We Always Fulfill What We Have Promised

Kaka Industrial 12-Inch Sheet Metal Plate Shear Overview
Kaka Industrial 12-Inch hand metal shear is an ideal tool for cutting metal plate, round steel and flat bar shearing. It equips with a blade length of 12-inch and features with cast iron steel frame, long steel handle and high precision cutting capability.

Just A Simple Click, You Will Own A High Cutting Capacity, Solid Steel Frame, Hardened Carbon Steel Blade 12-Inch Metal Shear
The cutting capacity of this metal shear is highest among the hand shear series; it can cut sheet steel at 3/16", flat steel at 2-3/4x3/16-inch and round steel at 1/2-inch. Moreover, this metal shear has a solid steel frame and a hardened carbon steel blade will increase the durability of this metal for a long time. It would be a smart choice for your workshop. More importantly, this metal shear is equipped with a long handle that will increase the flexibility and easiness since the long handle will give you more freedom and free your back pain. It is overall a great purchase at such a competitive price!
1、Shear capacity steel at 3/16", flat steel 2-3/4"x3/16" and round steel at 1/2"
2、A solid steel frame and a hardened carbon steel blade
3、A long handle that will increase the flexibility and easiness
4、Can be used to cut steel rod upto 1/4"
5、Depth adjustable material holding plate
6、Throatless design allow this shear to straight cut over 12"
7、Bench type and recommend to fixed to the table for the best perforance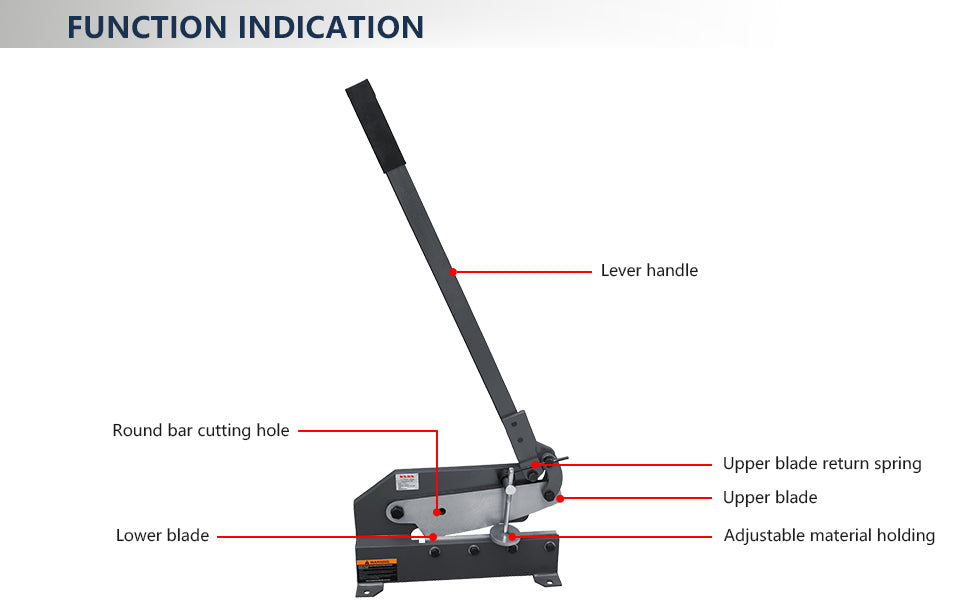 Item No.
  172105
  Model
  HS-12
  Blade length
  12"
  Capacity
  Sheet steel
  3/16" 
  Flat steel
  2-3/4"x3/16"
  Round steel
  1/2" 
  Packing Size
  29-1/4"x6"X3/4"
  N.W/G.W
  57/62lbs
1. KAKA Industrial provides 12 months warranty for this product from the date of purchase.
2. Please note that this warranty does not apply to defects due directly or indirectly to misuse, abuse, alterations, lack of maintenance or consumable parts.
3. The original end-user must give written notice to Seller of any suspected defect in the Goods prior to the expiration of the warranty period.
KAKA HS-12 Review
This unit is very well made and works well. Machined surfaces are flat and true. One minor improvement would be to machine the bottom of the mounting plates. These 2 plates were welded on and they "pulled" making the unit unsteady. I will shim the mounting table to fix this.
Hs -12
It cuts very good would buy it again. Great tool.
A table comparing the facets of 4 products

Facet

Title

Title
12-Inch Sheet Metal Plate Shear HS-12 Top/Bottom Blade
Kaka industrial HS-20 Guillotine Metal Shear, 20 in Bed Width, 16 Gauge/1.5 mm Metal Guillotine Shear with a Stand for Construction Work Sheet Metal Fabrication Plate Cutting Cutter
Kaka HS-30 Guillotine Metal Shear, 31 in Bed Width, 16 Gauge Metal Guillotine Shear with a Stand for Construction Work Sheet Metal Fabrication Plate Cutting Cutter
Kaka industrial HS-40 Guillotine Metal Shear, 39 inch Bed Width, 16 Gauge Metal Guillotine Shear with a Stand for Construction Work Sheet Metal Fabrication Plate Cutting Cutter

Price

Price

$559.99 $716.99

Unavailable

$574.44 $899.99

Unavailable