Kaka Industrial BS-108G horizontal bandsaw Metal Cutting Band Saw, Cuts up to 10"x7.9" round metal stock at 90°. Swivel head miters up to 60°. Motor power 1.1kw /1.5HP, 115V-60HZ-1PH
Kaka Industrial BS-108G horizontal bandsaw Metal Cutting Band Saw, Cuts up to 10"x7.9" round metal stock at 90°. Swivel head miters up to 60°. Motor power 1.1kw /1.5HP, 115V-60HZ-1PH is backordered and will ship as soon as it is back in stock.
Couldn't load pickup availability
The item weights less than 100 lbs will be delivery by FedEx Ground or USPS. You will receive tracking number once the carrier pickup. 
The item weight over 100lbs normally will be delivery by LTL Freight. Please note you may need the optional services if you order these items. For exemple, if you don't have a forklift or similar equipment to offloading the package, you may need to book the lift gate delivery service when checkout.
Payment & Security
Payment methods
Your payment information is processed securely. We do not store credit card details nor have access to your credit card information.
   Function Indication     
1、Runs on single phase motor, the saw could be used anywhere
2、Cut 9" round and 10"x7.9" rectangulear at 90 degrees
3、The saw frame max. miter 60° with angle indicator to show swivel angle
4、Quick act lock handle to fixed the swivel head
5、Directly gear drive bandsaw
6、Hydraulic descent, start the machine from the operation panel, and will stop when cut ting completed
7、Material stop allows you make repeat cuts
8、Built in cooling system, cooling and lubricate keeps the blade clean and long term use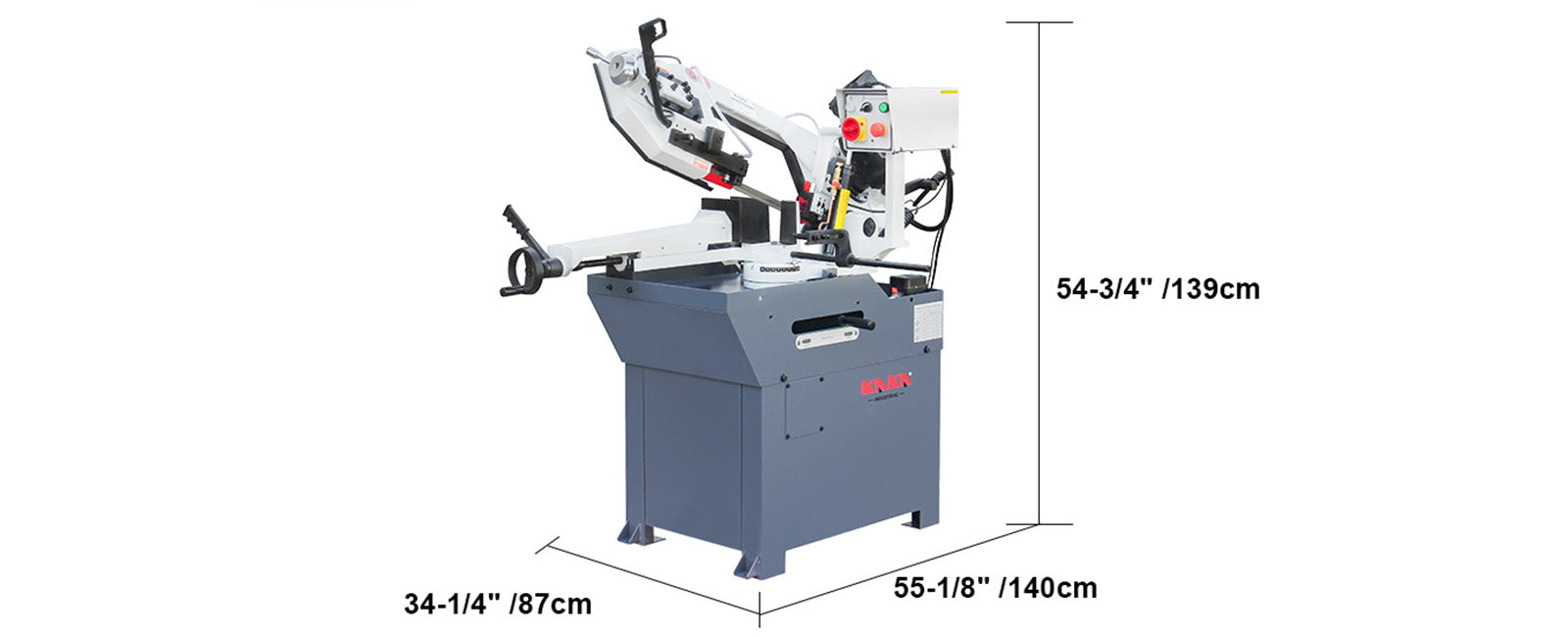 Item No.
  188017
  Model
  BS-108G
  Capacity
  Circular @90°
  9"
  Rectangular @90°
  10"x7.9"
  Circular @60°
  3.5"
  Rectangular @60°
  3.3"x3.3"
  Circular @45°
  6"
  Rectangular @45°
  6"x5"
  Blade speed @60Hz
  81MPM
  Blade Size
  27x0.9x2455mm
  Motor power
  1.1kW
  Drive
  Gear
  Packing Size
  57"x28"x40"
  N.W/G.W
  485/606lbs
1. KAKA Industrial provides 12 months warranty for this product from the date of purchase.
2. Please note that this warranty does not apply to defects due directly or indirectly to misuse, abuse, alterations, lack of maintenance or consumable parts.
3. The original end-user must give written notice to Seller of any suspected defect in the Goods prior to the expiration of the warranty period.
Surprised customer....
BS-108G is a nice saw, works efficiently. Shipping was timely, but wooden crate barely made the trip! No Packing slip, nor contents page, and the manual included was for a BS-260G, albeit both model numbers seem the same. No graphic assembly instructions, just a loose bags of uncatalogued nuts bolts. Totally on my own, I was able to assemble the base and mount the saw to the base. After a thorough cleaning, my saw is functional
and cuts readily, even miters, but there are no locks for 0 or 45 degrees. I like the quality of the saw, but they need to totally rewrite/design the owner's manual. This saw is very heavy, first project was building a heavy duty mobile base. I do not use coolant, and wish this base had a cut out or means of removing the accumulated metal chips from top of the base. I regret Customer Service is only email, no voice. Make these changes, it would be 5 stars.
False advertising but still a great saw .
It was very easy to put together basically just mount to the stand and your done I tested it and it cut a perfect 45 right out the box . I tried to clean up the machine with some brake cleaner and found out really quick that all of the paint is not powder coat just spray paint or something cheap because it came off instantly . And then I was pretty upset because it was advertised as the head swivels 60* to the right and 45* to the left and it is incorrect the head does not swivel to the left at all the only saw they sell that swivels both ways is $5200 a lot of the saws advertise swiveling both directions . I spent a lot of time making my decision on this saw and besides that it cuts amazing and is very solid .
Very nice saw
I compared many different brands of saws before making the choice to get this one.
And I definitely made the right choice, this is an amazing saw.
The build quality is very, very good. The tolerances are close and tight.
The cut accuracy right out of the crate was spot on, I was surprised not to have to adjust anything to get dead nuts 90 and 45 degree cuts.
The coolant pump is nice, the adjustable down pressure works good as well as the auto- shut off.
All of the swiveling adjustments are smooth, tight, and easy to operate, and the clamping mechanism is really nice also.
The saw was heavy and the finish was nice.
All in all, I couldn't be happier with this saw. It's powerful, fast, smooth, quiet and accurate- everything I wanted in a swiveling band saw.
It was so nice I ended up getting a magnetic brake and am getting ready to order a belt grinder.
Thanks for a machine I am glad to have at my shop.
A table comparing the facets of 4 products

Facet

Title

Title
KAKA Industrial BS-75G Horizontal Bandsaw 7.8"x4.7" Metal Cutting Band Saw, Solid Design Metal Bandsaw, High Precision Metal Band Saw, Space Saver Metal Cutting Band Saw 115V-60HZ-1PH
KAKA Industrial BS-76G, 7.8"x6.7" horizontal bandsaw, 115V-60HZ-1PH Metal Cutting Band Saw, Solid Design Metal Bandsaw, High Precision Metal Band Saw, Space Saver Metal Cutting Band Saw
KAKA Industrial BS-106G horizontal bandsaw Metal Cutting Band Saw, Cuts up to 9" round metal stock at 90°. Swivel head miters up to 60°. 230V-60HZ-3PH
KAKA Industrial BS-126G Dual Miter 12"x6" Capacity Metal Cutting Band Saw Built-in Coolant Double Blade Speed Horizontal Saw with 230V 3 Phase Motor

Price

Price

$4,774.99 $6,089.99

Unavailable