KAKA Industrial BS-1018B, 10" horizontal bandsaw 220V-60HZ-1PH Metal Cutting Band Saw, Solid Design Metal Bandsaw, Horizontal Bandsaw, High Precision Metal Band Saw, Space Saver Band Saw
$3,589.99 $4,159.99
Unavailable
KAKA Industrial BS-1018B, 10" horizontal bandsaw 220V-60HZ-1PH Metal Cutting Band Saw, Solid Design Metal Bandsaw, Horizontal Bandsaw, High Precision Metal Band Saw, Space Saver Band Saw is backordered and will ship as soon as it is back in stock.
Couldn't load pickup availability
The item weights less than 100 lbs will be delivery by FedEx Ground or USPS. You will receive tracking number once the carrier pickup. 
The item weight over 100lbs normally will be delivery by LTL Freight. Please note you may need the optional services if you order these items. For exemple, if you don't have a forklift or similar equipment to offloading the package, you may need to book the lift gate delivery service when checkout.
Payment & Security
Payment methods
Your payment information is processed securely. We do not store credit card details nor have access to your credit card information.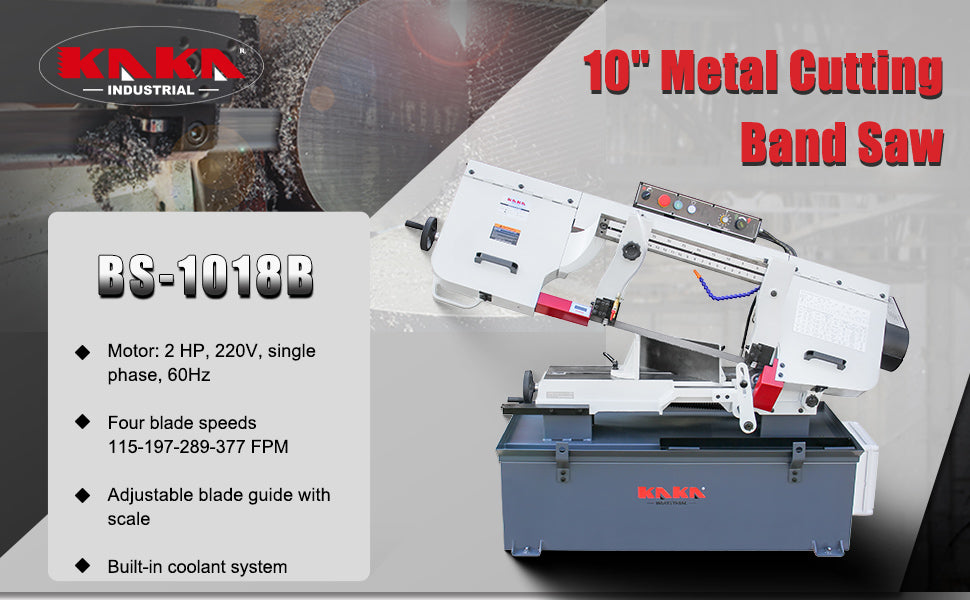 With its impressive 10"x18" rectangular capacity, this powerhouse is designed to handle even the toughest cutting tasks with ease.Round cut capacity is 6"" to 10"" and rectangle is 5" x 18". Metal Horizontal Cutting Band Saw Blade Dimensions 129" x 1-1/16" x 0.035".
Equipped with a hydraulic down feed and variable speed control, you'll have full control over the cutting process, ensuring precise and efficient results every time.The cutting band saw blade speed is 60HZ-35, 60, 88, 115MPM The metal cutting band saw is equipped with a high-performance motor - 2 HP, 220V, single phase, 60Hz. The cutting band saw machine will automatically shut down after the cutting is completed, providing overheating protection and making the cutting process safer.
With its 4-step blade speed options, you can easily adjust the cutting speed to match the material you're working with, guaranteeing optimal performance and clean cuts. The metal horizontal cutting bandsaw has an adjustable tilt table from 0 to 45° for more flexibility in cutting.By tilting the table 45 degrees to the right, you can easily and precisely cut bevels.
Plus, the built-in cooling system ensures that both the blade and workpiece stay cool during operation, prolonging their lifespan.
Say goodbye to tedious setups and hello to convenience with the fast release clamp vise. It allows for quick and secure material clamping, saving you valuable time and effort.
During the warranty period of this metal cutting band saw machine, if you have any questions or malfunctions about the parts, we will replace them for you for free. If you have any doubts or problems after purchasing the machine, please feel free to contact us, and our staff will solve all problems for you.
   Function Indication     
  Item No.
  188015
  Model
  BS-1018B
  Capacity
  Circular @90°
  10"
  Rectangular @90°
  5"x18"
  Circular @45°
  6"
  Rectangular @45°
  6"x7.5"
  Blade speed @60Hz
  35, 60, 88,115 MPM
  Blade Size
  27x0.9x3280mm
  Motor power
  1.5kW  2HP
  Drive
  V-belt
  Packing Size
  72"x32"x45"
  N.W/G.W
  683/848lbs
1. KAKA Industrial provides 12 months warranty for this product from the date of purchase.
2. Please note that this warranty does not apply to defects due directly or indirectly to misuse, abuse, alterations, lack of maintenance or consumable parts.
3. The original end-user must give written notice to Seller of any suspected defect in the Goods prior to the expiration of the warranty period.
BS 1018B
Great sales staff. Awesome price and excellant service and del.
tks wjr
New Saw
Saw works well and is well built, to only issue was the way it was wired and it is not a true 1ph 220 like we would see in the US it was wired 220v and a neutral which meant we had to wire to the wild leg of our 3ph system. It was confusing to figure out because it would not run wired normal 1ph 220 and would only run with the wild leg on the delta. other than that it is a very nice saw.
1018R
Everything went well and I'm happy with my 10" band saw citing
MLW SERVICES LLC
I own a Welding and fabrication business and kaka industrial has great quality products, i bought a 7x12 bandsaw 2 years ago still going strong today and we will buy another saw from them this year , the angles/degrees tag wore out and they sent us a new one free . Great service and even better equipment thanks kaka
KAKA Ind. BS1018B Band Saw
We are very please with the speed and accuracy of the cuts. Used it to miter some 6" C channel with excellent results. Heavy duty construction looks like it will last a long time.
A table comparing the facets of 5 products

Facet

Title

Title
KAKA Industrial horizontal band saw 7"x12" Capacity BS-712N, metal cut band saw, 4 step blade speeds by pulley wheel driven, Metal Horizontal Band Saw, metal band saw with 1.5HP motor 115V / 230V 1PH
KAKA Industrial BS-912B horizontal bandsaw 9"Horizontal Metal Cutting Band Saw 4 Steps Blade Speed Metal Band Saw, Space Saver Movable Metal Cutting Band Saw 115V&230V Dual Voltage Prewired 1PH
KAKA Industrial BS-1018B, 10" horizontal bandsaw 220V-60HZ-1PH Metal Cutting Band Saw, Solid Design Metal Bandsaw, Horizontal Bandsaw, High Precision Metal Band Saw, Space Saver Band Saw
Kaka Industrial BS-1018R 10 inch horizontal bandsaw, Metal Cutting Band Saw, the bow can be swiveled between 45° and 90°Solid Design, Solid Design, Horizontal High Precision Vice Metal Band Saw220V-60HZ-1PH
KAKA Industrial BS-1018T Dual Miter Metal Cutting Band Saw 10.2"x16.9" Capacity 2 HP power Horizontal Bandsaw with 220V Single phase

Price

Price

$1,299.99 $1,629.99

Unavailable

$3,589.99 $4,159.99

Unavailable